Noventum on 99.9 The Beat 
Noventum CEO Brian Stinar joined Jason Rigby on his show, The Albuquerque Business Podcast. They talked about the importance of websites for small business, custom software, scrapers, blockchain, and BitCoin.

If you're interested in listening to this episode, check it out here.










John Paul has been working on fixes for a Java-based battle ship simulator, "Dreadnought". This includes improving font readability, making sounds work on multiple platforms, and adding randomness to ship actions for realism. We aim to assist The Dreadnought Project to better simulate historic naval warfare.
Jeanne Lambert Kidd's Project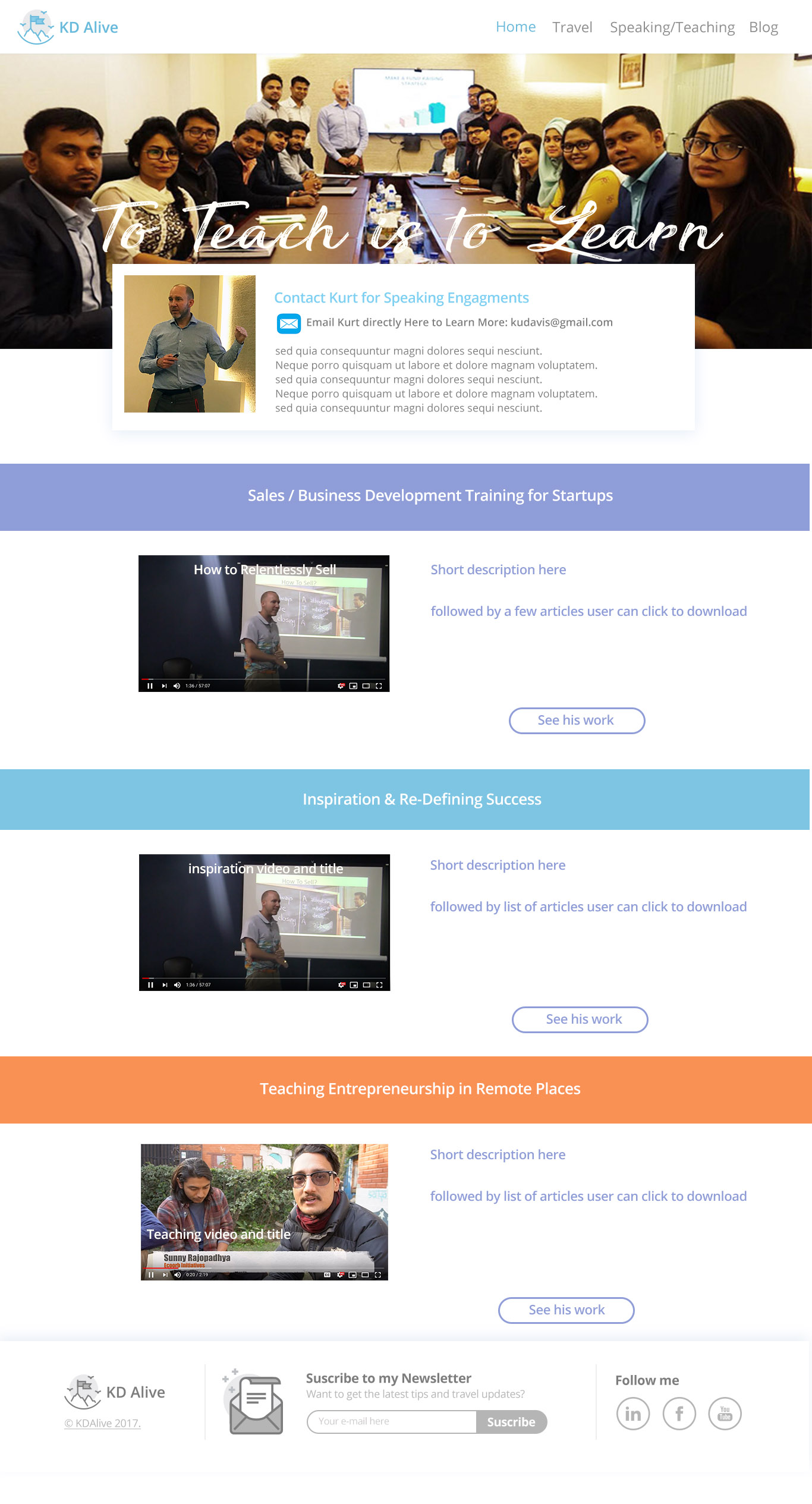 Jeanne has been working on new page designs for KDAlive.com a travel and beyond website and blog by entrepreneurial and global client, Kurt. Above is a new design for the "Learn" page of the website. A developer than translated over the PSD design file to the wordpress site. Jeanne designed header banners with cursive type for various pages and helps keep a consistent design aesthetic going throughout the site.
Anwar and John Paul's Project


Anwar and John Paul started a new project for a local nonprofit, an organization with the mission to end homelessness with resources, opportunities, and hope. Awesome! Our goal at Noventum is to provide a web application to help different similar organizations manage their clients, departments, programs, and costs. We intend to create an easily supported and deployed system, available as a product. You can see a diagram of our early database schema.
Ariel's Project

















Ariel has been working on an Instagram promotion campaign for one of our clients, Diana Kirkpatrick's newest  "Ancient Arts" collection. This included designing/creating an instagram story layout for the new individual items apart of the product line. We have also integrated a Facebook Pixel onto Diana's site which populated a product catalog onto her Facebook business profile. This pixel takes internal data from a website in order to tailor specific advertisements available to use through the Facebook ad manager.
Trusted Partner Jim Waggoner

Trusted Partner - Jim Waggoner - Noventum works with Jim Wagner, aka Daddy Wags Editing, to make sure website content is grammatically correct, appealing, and engaging. Jim has nearly 50 years of wordsmithing, having been a newspaper reporter, copy editor, and editor. He has dozens of satisfied customers, from best-selling authors to graduate-level college students working on their doctoral dissertations and others in between. If you are interested in working with Noventum, and Jim, on copy editing,
please get in touch with us.
Want to Work With Us? 
Interested in working with Noventum on a similar project, or on something completely different?