A presentation at Activate New Mexico
Activate NM is an organization for start-up business ventures in New Mexico looking for connections and resources. Brian shared about Noventum financials and projects our team has been working on in 2020, and below is one of the charts to summarize our status quo.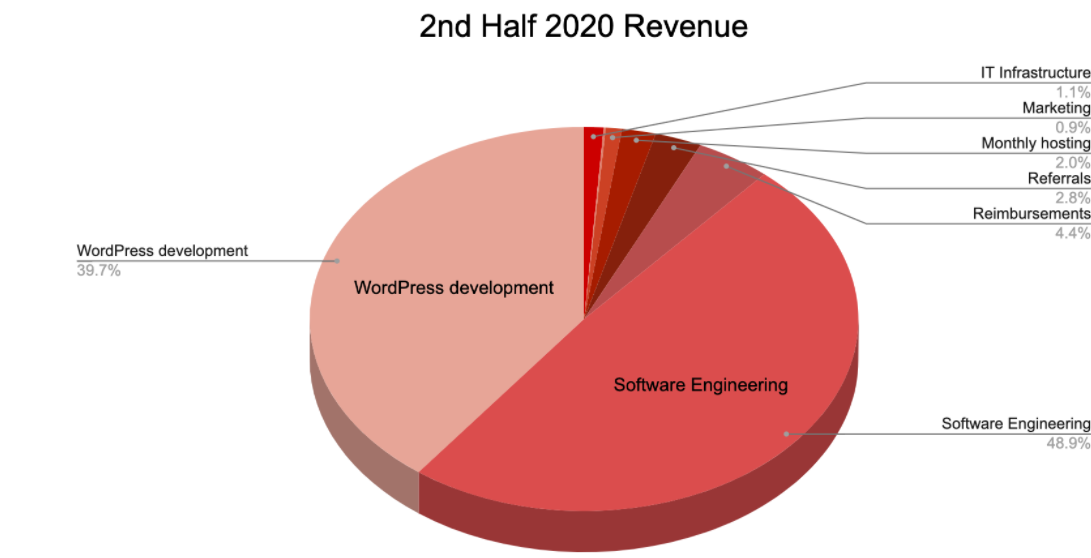 Premium App Development
Since last September, the Noventum team started building an online application for Geeks Who Drink, the world's largest pub quiz. Now, we are working on fixing a QuickBooks accounting system integration for Geeks Who Drink. Using QuickBooks integrates their accounting and quiz management systems, removing the need for tedious, error-prone, and human work. QuickBooks made changes with how programs need to interact with them, and I'm making the changes to their application to accommodate QuickBooks and fix the integration.
Web Application Development
Remember Junchao Mei, one of our software engineers? He's been working on the Ultimate Well Being Community web application development. Ultimate Well Being is a part of KDalive.com, a platform to encourage well-being and support entrepreneurship. The web application for the program consists of a custom WordPress theme, an account service, a learning management system, an eCommerce system, and daily check-in modules for attendees.
At the same time, Anwar Argimbayev, our software engineer, is reviewing and refactoring the codebase, deploying new features for the homeless-less management system for our non-profit client in New Mexico. The system is now at phase 4 of development!
Website Re-design
Jeanne Lambert, our Account Manager, and Graphic Designer, has been helping to manage Noventum clients as well as our various projects and requests. Lately, she's bringing in a new client to Noventum, The Central Kitchen. This Ohio-based organization provides specialized online courses for craft food businesses and connects them with a network of food professionals.
They have been integrating Edible Cleveland's old site into their site, so that involved figuring out how that integration would look and work.  They then have Noventum redirect the old site to the new Edible Cleveland page within the Central Kitchen site, as well as migrate selected old content and blog posts.
Jeanne helped with two new page designs and page build-outs using our preferred Beaver Builder page editor after our developers created the initial page template.
Marketing-related Projects
Ngoc Huynh, our Marketing Intern, is taking care of Noventum's internal marketing tasks and other external marketing requests from our clients. Recently, she helped Middle Rio Grande Water Advocate, a non-profit in New Mexico, apply for a $10,000 Google Ad Grant.
Besides, she set up and integrated Google Analytics into their website then linked it to the Google Ad account. Now, she's managing their first ad campaigns to raise awareness, attract more volunteers, win more subscribers and donations.
The generous Ad Grant can create big changes to any organization! If you know a non-profit that needs help with the whole process, please feel free to contact us!
Let's Chat
Give us a call to (505) 309-0692 to learn more about our services and talk about your software needs!